Overview > Drip Marketing > Drive Contacts to Your Event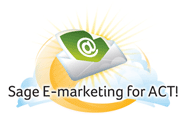 Drive Contacts to Your Event
Automatically
Planning an event is a lot of work. Drip Marketing campaigns will help you drive registrations, ensure attendance and receive post-event feedback so you can focus on your presentation.
Entice Registration
Allow your contacts to easily register for your event by including a link to a registration survey in your E-mail or postcard. By creating a List Updater Survey and related fields in your ACT! database, you can continuously keep track of those who have registered for your event. To entice registration, offer an early bird discount or promotional gift for those who register before a specific date, and reiterate that there are limited spots open in your event. Be sure to communicate to your contacts why they should attend your event and keep in contact with them through your Drip Marketing campaign so they do not forget to attend.
Advanced Tip
Cater to your contacts by creating a Transfer Stage in your Drip Marketing campaign so those who have already registered are dropped into a reminder/countdown campaign, while the unregistered contacts will receive the last minute registration offers.
Basic Example

E-mail 1 – Save the Date

E-mail 2 – Early Bird Discount Expiring

E-mail 3 – One Week Left to Register

E-mail 4 – Last Chance to Register

E-mail 5 – Post Event Satisfaction Survey
Now Do It!
Go back to ACT!
Click the Sage E-marketing icon on your toolbar
Click the Drip Marketing tab
Click Campaign Manager to create a new campaign
Click New Campaign
Fill in required fields and select type of campaign
Start adding Stages
Show Me More