Overview > E-mail Marketing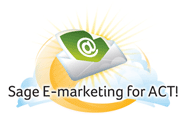 E-mail Marketing
Inexpensive and Effective
E-mail marketing allows you to reach out to your contact easily, efficiently and cost effectively. Through E-mail you can immediately communicate with your contacts with just a click (or two) of your mouse. E-mail also allows for specific targeting, relationship building and management. Most importantly, E-mail is proven to directly drive sales.
Why not do it yourself?
There are many benefits to E-mail Marketing with Sage E-marketing.
Create, send and track your E-mail blasts
Send much larger quantities of E-mail messages than your standard E-mail provider
Easily design branded and editable E-mail messages with our E-mail template editor
Gather valuable information about your contacts interaction with your E-mail messages, such as who opened a message, what links were clicked and more
Determine which contacts are most interested and what products interested them.