Overview > Welcome to Sage E-marketing > Use the Call List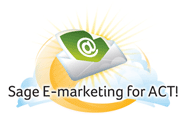 Use the Call List
Use the call list to:
Tell you who your most interested contacts are based on their interaction with your E-mail campaigns.
Create groups of contacts based on how interested each contact is. For example, place all "hot" contacts in a group for immediate followup and all "mild" contacts in a group for a future E-mail blast.
Now Do It!
In ACT!, open the ContactDetail view.
Click the Marketing Results tab.
Click the Call List control (either the left arrow or the right arrow)
In the Call List Contact dialog box, you can do the following:
Use the drop down list to select from the list of e-mail campaigns you sent previously
Use the arrows to scroll through the list of contacts for the selected campaign. Click Options to change how the contacts are displayed.
As you scroll through the list, you will see the contact name and phone number, the numerical score and the level of that score (Hot, Warm, or Cold) based on the actions from that contact (shown also as Sends, Opens, and Clicks).
To perform an action, click edit to the right of the action field (if there isn't one there already). The Action field indicates you have performed a follow-up (so you can see it the next time).
The buttons at the bottom allow further activities:
Use Lookup to do a lookup in the database or create a group based on call list settings (for example, all contacts that are scored 'Hot.').
Use Update to upload data back to the online call list (for example, if you add an action or change a contact's score).
Show me more information: