Overview > Drip Marketing > Manage and Convert New Leads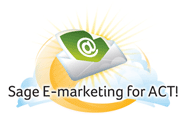 Manage and Convert New Leads
Automatically
You've worked hard and probably spent money to acquire new leads. Lead Management Drip Marketing campaigns will help you turn your leads into prospects, and ultimately customers, with minimum work from you.
Gain Permission
Perhaps you have a new batch of promising leads, but you don't have their E-mail address, or permission to E-mail them. Send these leads a Postcard that grabs their interest by offering them a link to a Whitepaper with information that they will value, such as how they can make their business more successful. Then, use the landing page the Whitepaper is on to your advantage by requiring visitors to fill out a survey before accessing the Whitepaper. Simply ask for their E-mail address, permission to E-mail them, as well as which of your product offerings they are most interested in. Now you have permission to send an E-mail, and you know which product Drip Marketing campaign you should put them in.
Advanced Tip
If a few of your leads have made it through your Drip Marketing campaign without making a purchase, consider inserting a Transfer Stage at the end of your campaign to put them into a nurture campaign. In this type of campaign you provide subtle reminders of your products on a less frequent basis. This enables you to stay in the customer's mind without annoying them.
Basic Example

Postcard – Offer webinar and URL to survey to sign up for webinar

E-mail 1 – Share webinar details

Call List 1 – Webinar follow-up

E-mail 2 – Industry Hints and Tip

E-mail 3 – Hard Sell

Call List 2 – Hard Sell follow-up
Now Do It!
Go back to ACT!
Click on the Sage E-marketing icon on your toolbar
Click the Drip Marketing tab
Click Campaign Manager to create a new campaign
Click New Campaign
Fill in required fields and select type of campaign
Start adding Stages
Show Me More