Overview > Instructional Help > ACT! Connect Existing Users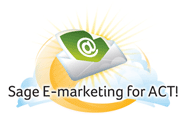 ACT! Connect Existing Users
This tool is designed to easily connect ACT! users with existing Swiftpage UserID's.
Swiftpage UserID's can be linked with ACT! users at the database level. This allows you to connect as many of your ACT! users in your ACT! database to as many Swiftpage UserID's as you would like. Having multiple Swiftpage UserID's on one ACT! database gives access to Swiftpage Team features (specifically the ability to use "Send As" and the ability to assign Call Lists).
For Each ACT! user that is connected to a Swiftpage UserID, we write a simple history entry into the their My Record. Connecting and Disconnecting users simply adds or removes this history record. Therefore, to use this tool, you must have the proper ACT! permissions.
Below you will find a description of the "Connect ACT! and Swiftpage users" screen. The letters in Red define the important areas of the screen.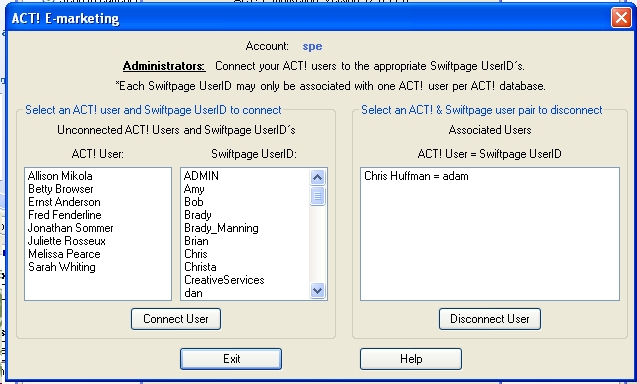 "ACT! User:" This is a list of all of the ACT! users in this ACT! database that are not connected to a Swiftpage UserID.


"Swiftpage UserID:" This is a list of all of the "Active" and "Unconnected"* Swiftpage UserID's in this Sage E-marketing Account.


"Connect User" button - To connect an ACT! user to a Swiftpage UserID simply select the ACT! user and the Swiftpage UserID and then click "Connect User".


"Disconnect User" button – To disconnect an ACT! user from a Swiftpage UserID simply select the connected pair from the "Associated Users" list (see E), and then click "Disconnect User".


"Associated Users" list – This is a list of all of the ACT! users in this ACT! database that are connected to Swiftpage UserID's in this Sage E-marketing Account. The connected users are shown in the following format – "ACT! User = Swiftpage UserID"