Overview > Instructional Help > Drip Marketing Results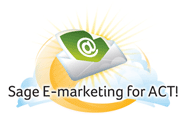 Drip Marketing Results
Swiftpage gives you the ability to bring data related to your Drip Marketing campaigns back into your ACT! database. Swiftpage stores Drip Marketing Stage information in ACT! History records, allowing you to keep all of your information about your contacts in your ACT! database.
When downloading drip marketing campaign results, there are three options for updating the history in your ACT! database: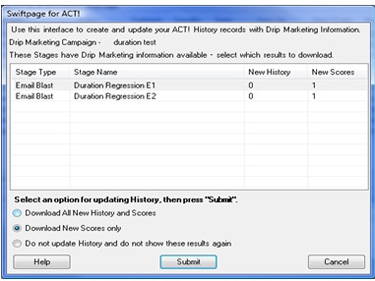 Download All New History and Scores – This option will create new history records for each contact that qualified for the E-mail stage. New scores are available daily and if any are available, they will also be downloaded.
Download New Scores only – New scores apply only to E-mail stages. Scores are give to contacts based on opens, clicks, bounces, opt-outs and more. New Scores are available daily to download into your ACT! History.
Do not update History and do not show these results again – Choose this option if you do not wish to update your ACT! History and do not want to see these results again.